Everything to Know About Wedding Stationery
Planning a wedding can be overwhelming, especially when it comes to compiling all the information for the stationery. But don't worry, Selkie Stationery is here to help make it easy for you. We specialize in creating sustainable and beautiful stationery for your big day. With so many options available, it can be tough to know where to start. But don't stress, we've got you covered. Below is a guide to what you can include in your wedding stationery suite. We totally get that there are a lot of traditions wrapped up in wedding stationery, and we're here to guide you through them (or help you break them all if that's more your style!) Let's make your special day even more memorable with eco-conscious and personalized stationery.

Or as the pros call it: STDs. STDs give your basic wedding info to your attendees. Who, What, When, Where, and sometimes Why. If you're planning on having a destination wedding or asking your guests to travel long distances: earlier is better! Snail mail or email! As a side note, this paper good will often be proudly magnetized to the fridge for the longest amount of time. 
Local: 4 Months before | Destination: 8-12 months before
The meat & potatoes of the wedding stationery suite (unless you're vegan, of course)! This is where you'll include all the details: names, date, locations, times, reception info, hosts, etc. Often time this is the statement piece in the wedding suite. It's a great opportunity to show off your personality and mood of the wedding.
6-8 weeks before the wedding
There is always the option to send some stationery as a postcard (generally Save the Dates), but more often you'll want it packaged neatly in an envelope. Envelopes come in multiple colors, finishes, and styles and are a great way to add extra luxury or pizzaz to your stationery suite.
Addressing envelopes can be done by you, digitally printed, or professionally hand lettered. 
PRO TIP: If you are getting the envelopes digitally addressed you can add a special return address on the back at no extra printing cost! 
SUSTAINABLE TIP: If you plan on addressing the envelopes yourself get a return address rubber or embosser stamp to save time. Reusable for future snail mail!
Répondez s'il vous plaît aka Please Respond. You want an accurate count of how many guests will be attending your wedding and the RSVP is the way to make that happen. Before creating your RSVPs figure out what information you need from your guests. Do you need to know their first and last names, what plated food they prefer, or what song will make them groove on the dance floor? AND (in theory 🤞) you'll be getting all these cards returned to you. So, make them fun for you. Maybe a mad lib question to make you giggle.
PRO TIP: Check in with the vendors to see when they need to know guest information. That will help determine your return by date. Pre-addressing the envelopes with your address and adding a stamp will encourage your guests to get those babies back to you faster. 
SUSTAINABLE TIP: D

irect guests to your website towards an eRSVP!
The detail card is often its own insert – separate from the invite. This is where you can expand upon plans, accommodations, directions, website, online RSVP, attire, after parties, etc. Don't leave anything up to your attendees' imaginations. If you want something a specific way – state it! Or you'll have Uncle Boris showing up to cocktail hour in his crocs and jorts…which may or may not be a good thing depending on what you're going for.
Detail cards aren't always needed and that's okay! If you have info you'd like to share but don't want the extra card, add your website on the invite to keep guests in the know.
SUSTAINABLE TIP: Detail info can be put located on your website!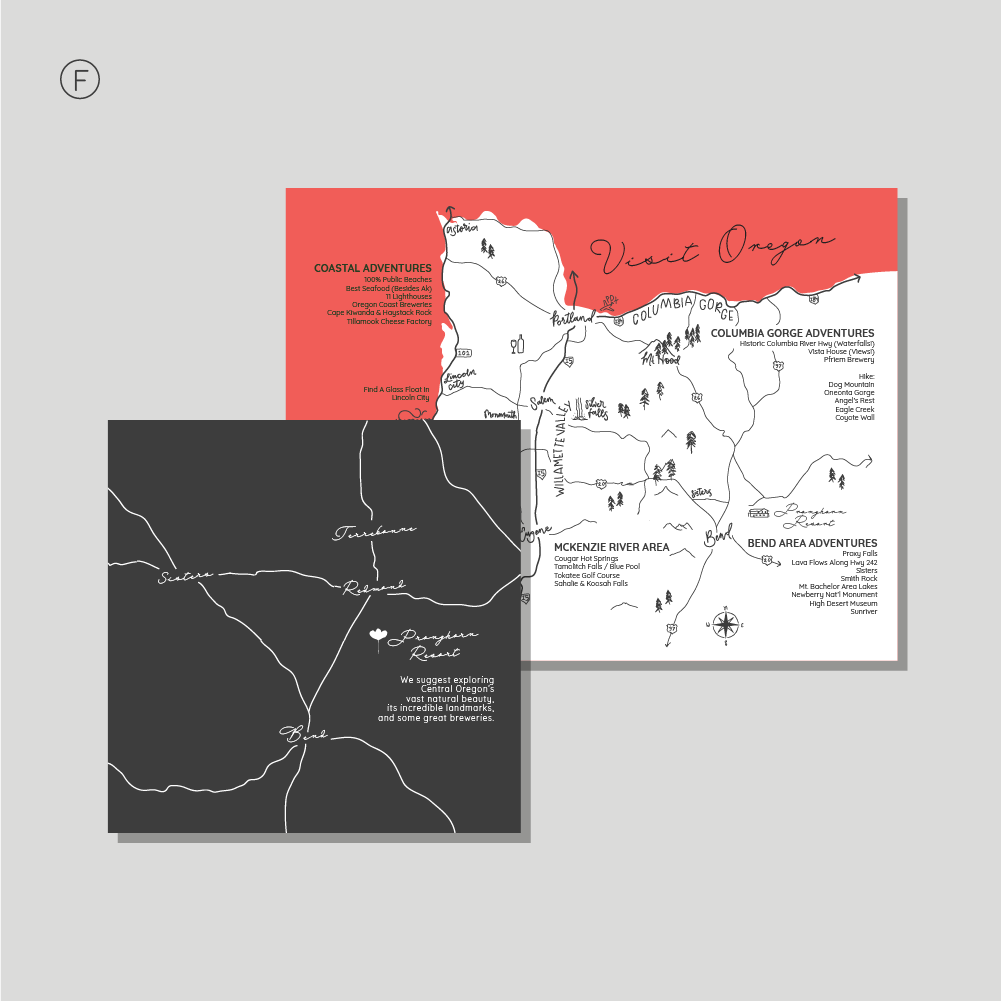 Maps are a fun way to show your guests the area! Keep it simple to give a general understanding of where the wedding will be located, OR get detailed: give directions to the venue, point out local activities, emphasize landmarks to see, and recommend your favorite places.
SUSTAINABLE TIP: Skip the map unless you have a lot of guests coming from out of town. 
Envelope liners are a really great way to add luxury and a pop of color to your stationery suite. Liners are an extra piece of paper that lines the inside of the envelope flap. Specialty liner materials: wood grain, glitter paper, metallic papers OR customize the liner with graphics or a photo.
PRO TIP: Use an envelope liner when using laser cut envelopes. It will add dimension and protect the delicate laser cut paper in the mail and as it's opened.
SUSTAINABLE TIP: If envelope liners are must (which sometimes they just are
😍
use recycled or seed paper!
H.

 Rehearsal Dinner Invite
If you plan on hosting a ceremony rehearsal and a rehearsal dinner then a rehearsal dinner invite is in order! Include date, location, and time for the rehearsal. If the dinner is happening at a different time or location, include that information as well. This paper good is heading out to your favorite and closest people. Make sure they know how special they are and add a little love because they're supporting you!
SUSTAINABLE TIP: Save on postage! Include the rehearsal dinner in your wedding suite to cut down on envelope & stamp usage.
Tags fall under the extra category! They are a great way to give a sneak peak before revealing the invitation suite and are a convenient place to include thoughtful or important information. Add your favorite quote, include your wedding URL, or add your initials, date, and location. Attach by string or grommet. Mount to a bellyband. 
This definitely falls under the extra extra category! Use several vintage stamps as an artful collection on your envelope.
PRO TIP: If you use vintage stamps make sure they add up to the correct postage.
Stationery Suite Enclosures
When your stationery suite is JAM PACKED FULL of paper goods – it's got to be contained! Plus, it's as if each guest gets to open up their own "gift" when they receive their invitation. It makes for a lovely user experience. This is not an exhaustive list, but hopefully a good jumping off point. 
This truly is like opening a gift. Wrapping the suite in vellum is an elegant way to encase all your stationery. Specialty paper wrapping is another way to enhance your wedding theme. Use a pop of colored paper, wood grain paper, or get wild with fabric. Wraps can vary in size from quarter size to full size. They can also be printed on. Seal it with a wax seal, customized sticker, or tie.
2.

 Bellyband, Ribbon, & Ties – Oh my!
Bellybands are often thin strips of paper or vellum that wrap around the stationery suite to keep all items secure. Specialty bellyband materials: glitter paper, wood grain, or custom printed paper. Add a touch of glamor to your suite while keeping it secure with ribbon. Dreamy ribbon materials: velvet, cotton gauze, lace, silk, chiffon. Tying up the suit in a bundle is another great way to contain the items. Popular tying materials: leather, twine, baker's twine, cord. 
PRO TIP: Bellybands, ribbon, & ties are a great place to attach your tag.
3.
 Panel Pockets & Laser Cut Panel Pockets
A Panel Pocket is a card slightly larger than your invite with a pocket on the front. Panel pockets come in a ton of different colors and styles. Keep it simple with a clean cut pocket, or go glam with an intricately laser cut pocket in glitter gold!
4.

 Pockets & Laser Cut Pockets
Full pockets are in three sections. The largest section is where the invite is mounted. The pocketed section is for storage of extra paper goods: RSVPs, detail cards, maps, etc. And the final section is the enclosing section. This flap lays over the top and encloses the pocket. Pockets come in many different colors, paper finishes, and styles! Choose from sleek simple cuts or intricate laser cut designs, as well as monograms!
5.

 Inner & Outer Envelopes
Choosing to use inner and outer envelopes is a very classic and traditional look. It's also a great way to clearly convey who is invited. Printed or lettered on the outer envelope is the family name, address, and return address. Printed or lettered on the inner envelope are the first names of those invited. 
PRO TIP: This is a great option for cluing your guests in on who is allowed a plus one and whether or not their kids are invited. Use the inner envelope to invite Ilea and Guest or Marni & Brennen when kids aren't invited.
Day of Paper Goods 
When guests are well informed and can easily located a bathroom during the wedding it will lead to maximum joy for them and a stressless day for you! Use day of paper goods and signage to help your guest enjoy themselves and stay in the know.
a. 

Place Cards & Escort Cards (& Seating Chart)
First, let's talk about the difference. Place cards are generally more formal and denote a specific place for your guest at the table. This is helpful for plated dinners so caterers can deliver the correct meal to your guest. Escort Cards assigns your guest to a specific table, but allows them to choose where they sit at the table. In either case it's helpful to have larger seating chart that lists all guests and table assignment, so they aren't wandering around looking for their seat. 
PRO TIP: You can get wild with escort cards! Maybe they're labels on a chocolate bar or handwritten on rented champagne flutes. The options are endless.
SUSTAINABLE TIP: Assign your guests to a table using a seating chart and let them pick where they sit at the table. No need for place cards.
b.

 Program & Order of Events
Programs are definitely optional, but shouting to the world about all the amazing people who are surrounding you will feel really good. It's pretty likely that your family, groomsmen, ladies of honor, officiant, and Pickles (your dog ring bearer) have done a lot for you. Both in your regular lives and definitely in making your wedding day go smoothly. It's fun to get clever with programs – if you're expecting a hot day, turn them into fans! This is also a great place to include a map of the venue if you'd like to encourage adventuring.
Order of Events cards are a good way to keep your guests from guessing. You don't want grandma to miss cake cutting because she was playing yard games with your college roommates. It can be vague or as detailed as you'd like, but it gives guests permission to explore the venue, grab their toasting drink, and hit the dance floor at the appropriate times.
There are several ways you can go about menus. An elegant option is to have a menu at every place setting. This allows your guest to easily see what delicious meals you're serving. Another option is to have a larger sign, or multiple signs located on the table, near the buffet, or posted about, so guests can take a read at their leisure. Menu's can also be broken down into smaller tented cards to label each food item at a buffet.
It's good to give drink options and it's good to be clear about what you are offering. Especially if you need to differentiate between what's part of the cash bar and what's on the house. This can manifest as a couple of upright cards at the bar, specialty signs for your signature drinks, or individual cards for a self serve station.
If you choose the route of assigned seats or tables, you'll want guests to easily find their assigned place. Labeling each table as numbers or names is a great way of accomplishing that. If you use numbers make sure the bride and groom are at table one! The closest table to them is number two and so on. Best to create some pattern to your numbering to keep things simple for your guests. An alternative is naming your tables. Fun options: favorite flowers, surrounding mountains, cities you've visited, types of chocolate…I would love to be seated at the Salted Dark Chocolate Table. 🙂
PRO TIP: If your tables are mostly all connected (ie. one long table, or a large 'U' shape) it's still a good idea to label areas or sections. Making guests look at 97 name cards before they find their spot will be a bit frustrating. 
f. 

Wedding Signage (everything else)
I might be biased but I'm going to go out on a limb and just say more information is better. Making the day of your wedding as easy and convenient for your guests will make for a more enjoyable time for you and your wedding party. Important signage for the big day: Venue markers, Parking instructions, directions to ceremony, Gifts and Card drop off, Welcome sign, game area, bathrooms, cell phone restrictions, hors d'oeuvres, photo booth instructions, coat check, hashtags, directions to reception area, dessert table, and guest book.
PRO TIP: Be in communication with your venue and wedding planner (if you have one) on what signage is needed versus what will be supplied.
Sustainable materials: wood, fabric, glass, mirror, chalkboards.
Thank you cards are definitely the paper good I would advocate for being a physical item. It's safe to assume you are going to have some amazing people at your wedding who support the two of you in love and in gifts. Showing appreciation through a thank you card is a small and important gesture. 
PRO TIP: Order your thank you cards before your wedding and fill them out as you open gifts. It is easy to loose track of what's from who. (Some wedding registries make that easier).
SUSTAINABLE TIP: Leave off wedding specific information when customizing your thank you's. Order extras and you'll have thank you cards on hand for any occasion.
Materials
There are MANY different materials that can be used for your stationery suite. Some more eco-friendly than others. I'm only going to name a few here. If you are interesting in something more unique, let's talk!
RECYCLED PAPERS
COTTON PAPERS
SPECIALTY PAPERS
White/Light Paper. White, eggshell, snow white, cream, crystal, cream puff, luxe white, soft white, savoy, pure white,  eco white… should I keep going? Anyways, A thicker light paper is best for digital printing. This is what you see most often and can really make specialty designs pop! Finishes on the paper can vary as well: eggshell, felt, satin, stippled, uncoated, gloss.
Colored Paper. Colored paper is a fun way to add pizazz to your wedding suite. Options are (almost) endless here. New printing techniques allow for digitally printed white, gold, and silver inks! Colored papers are also great for foils, off-set printing, and digital printing.
Handmade Paper. Handmade paper is a lovely way to class up your stationery suite. This type of paper is best for watercolor, gold leaf embellishments, letterpress, and very simple digital printing. 
Metallic Paper. Needing some extra shine in your life? Metallic paper is a fun way to add some glitz to your glam. Metallic papers come in a variety of colors and work well with digital printing.
Specialty Papers. Other paper options: Glitter paper, wood grain, vintage papers, vellum, recycled paper, and seed paper. 
Printing Techniques
There are multiple options for the way you print your stationery suite.
Digitally Printed. Digitally Printed technique is similar to what our at home printers do. They use CMYK dots to create a spectrum of colors. Professional digital prints expand upon CMYK and can achieve a more vivid spectrum. This technique is often the least expensive printing technique. 
White, Gold, & Silver Digital Printing. This is a fairly new technology. Using the same techniques as a digital printer but instead replaced with pure white, silver, or gold ink. This is an exciting technique because you can get the glitz of gold, without the cost of off-set or foiling.  
Off-set Printing. Are you looking to match your wedding colors exactly? With digital printing there is always a little bit of variation between screen and printers. With off-set printing the ink is pre mixed and made and then applied to the paper resulting is the perfect color match. This is best for one or two colors and larger quantities. 
Foil Printing. With Foil printing instead of a layer of ink it's a thin layer of metallic foil that is heat pressed into the paper. This can be a gorgeous element to any stationery suite and results in crisp designs.
Letterpress. Letterpress is when an engraved plate is pressed into a thick piece of paper leaving a physical indentation. This like Off-set has the capabilities to match the ink color exactly.  Letterpress is best for one or two colors. Each piece of paper is hand set into the machine, pressed, and then hand pulled out (for each color). Time and care goes into each letterpressed item and therefore has a higher price point. 
Hand Printed. If you're looking for a a really unique suite ditch the traditional printing techniques and instead elect for going with hand done. Watercolor washes, hand written info, gold inks, calligraphy, stamps, etc. 
If you have any other questions regarding stationery, printing, or papers feel free to email selkiestationery@gmail.com!